Q: Why should I buy a
Roll-A-Ramp® over some other product?
A: There are many reasons why Roll-A-Ramp® is the premiere choice for portable, van, and home ramps.
a) Versatility. Unlike other products on the market, the Roll-A-Ramp® is much more versatile and can be used in more situations, for more uses. You can add additional length by simply attaching extra sections. This means you never have the wrong size ramp! It can be changed and reconfigured to meet your exact need.
b) The width you need. Ramps come in the following widths of 12" (sold in pairs), 22″, 26", 30", 36" and 48″ wide.
c) Rolls up – easy to use and store. Stores in very little space – no need to wrestle with heavy folding ramps that are hard to handle.
d) Multiple ramps in one: Any Roll-A-Ramp® can be quickly and easily split into different length sections. The section can be used as a shorter additional ramp.
Q: Which width should I choose?
A: If using the ramp for wheelchair or scooter access, measure the wheelbase of the chair (inches from outside the left wheel to outside the right wheel). Determine the right ramp width for your needs.
Q: How much does the ramp weigh?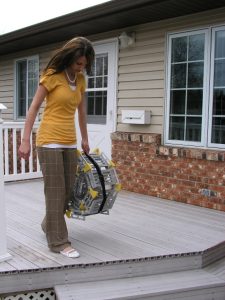 A: Since the ramps can be any length, and you can add links if you need to, use the following to determine the weight based on the width of the ramp you need:
48" ramp – 8 pounds per foot
36″ ramp = 7 pounds per foot
30″ ramp = 6 pounds per foot
26″ ramp = 6 pounds per foot
22" ramp = 5 pounds per foot
12″ ramp = 4 pounds per foot
Q: What is the Roll-A-Ramp® made of?
A: Our ramps are made from aerospace 6061-T6 aluminum. The same material military jets are made of, the highest quality aluminum raw material available. It is hardened to the Rockwell Hardness factor of T6 which means it has the hardness of steel. Plus, it is anodized which makes it stronger, last longer, prevents corrosion and makes for clean handling.
Q: How much does the ramp cost?
A: Pricing will vary based on configuration for width, length, support stands, handrails, or platform.  Please contact us for more details do we can help in your evaluation.
Q: If I purchase a Roll-A-Ramp and it doesn't work for me can I return it?
A: We strive to make sure our customers get the right ramp during the initial purchase, but we also understand that at times our ramps will not be the right solution for everyone. Returns are generally accepted with a 20% restocking fee if the ramp is in re-sellable condition. Shipping costs are not refunded.
Q: Can you custom make a different width?
A: No – We are not able make custom widths.
Q: Does Roll-A-Ramp meet ADA guidelines?
A: Roll-A-Ramp® is unique because it can be built to any length. Roll-A-Ramp® is flexible in that it can be built to ADA specifications 12:1 (1′ of ramp per 1″ of rise). However, this length is typically not needed in most locations nor is it feasible in most home locations. Ramp length will depend on your situation and your individual need. Because it is a portable ramp, it is not required to comply with ADA guidelines
Q: How does the ramp stay in place?
There are three options:
Approach plate and link: Each ramp comes with a standard approach plate on each end. The approach plate and one link of the ramp should be on the top of the ramp so that the weight of the ramp is secured to the destination surface.
Heavy-duty approach plate: A heavy-duty 6" approach plate may replace the standard upper approach plate, which is included on all ramps. This piece is made of steel instead of aerospace aluminum and is designed to bear weight. If space on the destination surface is limited, this can be a great solution – although it will add about 10 pounds and some additional cost.
Z-Mount brackets: These Z-shaped brackets (also called Seg-Mount brackets) can be attached to the front of the top stair or destination surface. The standard upper approach plate slides into the brackets making the ramp level with the destination surface.
Q: Does the ramp come with approach plates?
A: Yes. Approach plates make it possible for wheelchairs, for example, to smoothly get on and off the ramp. All ramps come with a standard approach plate on the top and bottom and both are included in the overall length of the ramp. For example, an 8' ramp will be comprised of a 6" standard approach plate on the top and and another one on the bottom and 14 links. An 8' ramp (with two 6" approach plates) will have 7' of usable ramp.
Q: Do longer ramps need extra support?
Ramps that are 11' and longer need support stands. The stands should be placed at 6-7 foot increments. Ramps of this length without support stands will not have the 1,000 pounds capacity and may feel springy when used.
Q: ¿Habla español?
A: Si necesita asistencia en español, por favor escriba a jennifer@rollaramp.com