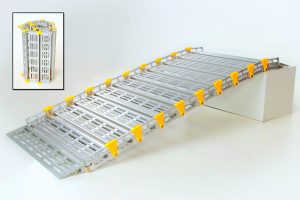 From the very beginning, Roll-A-Ramp® has been about solving problems. The company founder, Donald J. Schmaltz, wanted to design a portable, lightweight ramp that would make people's lives and work safer and easier. Schmaltz sketched a rough design on paper and spent a year developing wooden models finally deciding that he had a product worth exploring further.
With grant support from the Center for Innovation at the University of North Dakota and additional investment from Thomas E. Kenville, and Dr. Joseph Stanislao, Schmaltz created a prototype and conducted a market survey that revealed a strong interest in durable, portable ramps that can be easily stored and transported.
Roll-A-Ramp® is a product of North Dakota. The story of Roll-A-Ramp® is tied to hard work and American ingenuity – two values central to North Dakota and the spirit of pioneers, entrepreneurs, and inventors that make this state and country great.
Roll-A-Ramp® has sold over 5000 ramps for industry and home use since the company was founded in 1999. While we're proud to say that our ramps have been used in Buckingham Palace, we're equally proud that we have helped thousands of people become more mobile and work more efficiently on all seven continents and in over 120 countries. With an international dealer network and notable awards for engineering and business, Roll-A-Ramp® is still dedicated to solving problems and making people's lives and work easier.
Where Strength and Flexibility Meet
Making the World More Accessible One Ramp at a Time!
Vision Statement: Roll-A-Ramp® provides the highest quality mobility product in the global market.
Mission Statement: Enhancing lives by providing the highest quality, innovative products to everyone needing mobility and accessibility in the medical and industrial markets; focused on providing high-value products, competitively and efficiently in the global marketplace, allowing all who have a need access to the strength and flexibility that Roll-A-Ramp® provides.
About: Roll-A-Ramp® is an American-owned company headquartered in West Fargo, North Dakota, USA. Our product is the same as our name: Roll-A-Ramp®. Our ramps can be used as a portable ramp, van ramp (powered and non-powered), RV ramp, or semi-stationary modular ramp. Roll-A-Ramp® can be used for light or heavy industry, wheelchairs and scooters, for boats and marinas, or anywhere that greater accessibility is helpful. Built from a 6061 aerospace aluminum with a T-6 Rockwell hardness, our ramps will not rust or corrode. We also offer a 10-year warranty on our ramps and a 1-year warranty on the motor for powered van ramps. No other portable ramp company offers a similar warranty.
Roll-A-Ramp® sells through a dealer network throughout the United States and Canada. We also export internationally and our ramps are making people's work and lives easier in more than 50 countries around the world. The U.S. Department of Commerce awarded Roll-A-Ramp® the prestigious Presidential E Award for exports in 2013 to recognize our company's excellence and continued growth in the international marketplace.
Our dealers and sales staff take pride in working with customers to find an accessibility solution for each individual situation. Our ramps are built when they are ordered so we do not sell mass-produced or overstocked ramps. We always work to provide our customers with a top quality product with outstanding customer service.
As Featured On:
Roll-A-Ramp has been featured with a number of honors, awards, and recognition from some of the mostly highly regarded media organizations and public associations in the country, including the U.S. Department of Commerce and on HGTV's hit show, Income Property.