Roll-A-Ramp® offers ramps for both motorcycles and ATVs.
ATV Ramps:
Our ATV ramps come as a pair of 12″ ramps (twin-track) designed to help you load an ATV easily into a truck or trailer. Just roll the ramps out, drive the ATV into the bed of the truck, roll up the ramps, and drive away.
Motorcycle Ramp System:
For the motorcycle enthusiast, sometimes the biggest challenge is loading a motorcycle in the back of a pick-up truck. You set up your homemade motorcycle ramp or a store bought motorcycle ramp, but neither gives you the confidence to do it on your own so you ask a friend or two (or three) to spot you. Then you have to store the motorcycle ramp in the bed of your truck, being careful not damage your motorcycle.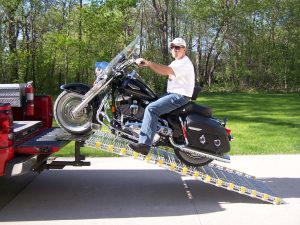 How would you like a motorcycle ramp you can roll out, ride up and store safely out of the way of your bike? When a friend needs to borrow it, simply remove the hitch pin and remove the system to slip into his receiver. It's that simple!
This ramp system, MC-3600 includes a 36″ x 9′ ramp and a customized bracket that connects to a 2″ receiver hitch and has a plate that will go over the tailgate to keep the weight off the tailgate to prevent damage to the cables.
Features:
Very easy to use – rolls out for use – rolls up and stows for travel
Supports 1,000 lbs
System remains securely in place with the tailgate closed
No load on the tailgate – weight is distributed through the hitch bracket system
Ramp is removable in seconds for use as a stand-alone ramp
Aerospace 6061 aluminum construction means it is both lightweight and very strong
Patented slotted link design means it has both superior traction
9′ ft x 36" ramp provides plenty of room to use your feet for balance
Trust your bike with nothing less!
Our ramps were featured on Tools in Action. Check out the video – you'll know everything you need to know.